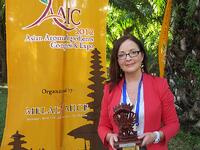 The archived recording of this webinar can be found here:
The Ultimate Essentials of Essential Oil Safety recording.
Working with essential oils is a wonderful and natural way to promote personal health and wellness--and they can smell fantastic! However, essential oils are highly concentrated and must always be used with care and caution.
Join ACHS President and Founder Dorene Petersen as she presents the Master Lecture webinar, The Ultimate Essentials of Essential Oil Safety on June 11, 2014 from 4:00-5:00 p.m. Pacific time.
In this essential oil safety webinar, you will learn:
4 tips to avoid adverse reactions
Irritation vs. sensitization

Methods of administration safety (internal and external)

Phototoxicity vs. photosensitivity

Drug interactions and contraindications

Pregnancy and breast feeding

First aid and toxicity
A thorough understanding of essential oil safety is key to effective aromatherapy. We hope you'll join us by filling out the form to the right to register.
This webinar will last 1 hour (includes a 10 minute Q&A).
Can't make it? No worries! Just fill out the form and you'll receive a free recording of the event on June 12!
**Please note that registration does not guarantee participation in the live event. Participation in the live event is limited to the first 500 attendees who log into the webinar on June 11.