The ACHS Master Lecture Webinar with President and Founder Dorene Petersen: "What's Hot and What's Not: 2013-2014 U.S. Trends in the Aromatherapy Essential Oil Sector" took place on February 5, 2014.

In this Master Lecture webinar, Dorene Petersen, President and Founder of the American College of Healthcare Sciences presented the results of her research into the professional and retail aromatherapy sector of the essential oil industry in the United States. There was a brief overview of 2014 aromatherapy trends plus insights into essential oil such as:
Sources

Quality

Adulteration

Labeling

Administering
Additionally, we reviewed the top 10 essential oils currently being used by American Professional Aromatherapists compared to the top 20 oils identified in the aromatherapy natural channel segment, as well as some significant notable biological activity supported by a research review for a selection of these oils.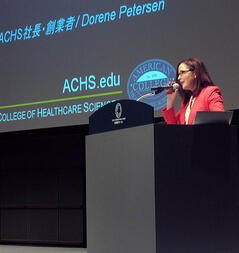 Dorene Petersen, BA, Dip.NT, Dip.Acu, RH (AHG), President, Principal, and CEO
About President Petersen:
Dorene Petersen is President and Founder of the American College of Healthcare Sciences (ACHS). In addition to teaching courses for ACHS, researching and writing, Dorene leads the annual ACHS Summer School study-abroad programs to the Mediterranean and Indonesia, which explore traditional holistic health, holistic nutrition, therapeutic clinical aromatherapy, and aromatherapy distillation, among other topics. She has presented papers at the International Federation of Essential Oils and Aroma Trades Annual Conference in California, USA; the Aroma Environment Association of Japan in Tokyo, Japan; the Asian Aroma Ingredients Congress and Expo in Bali, Indonesia; the World Perfumery Congress in Cannes, France; The Herb Growers and Marketers Conference in Hyannis, Massachusetts; the International Scientific Aromatherapy Symposium in Grasse, France; and at the International Herb Association Conference in Portland, Oregon. Her articles about aromatherapy have appeared in publications worldwide, including: Perfumer & Flavorist, Alternative Therapies in Clinical Practice, The News Quarterly, Making Scents, The Herbarist, the NAHA Aromatherapy Journal, Massage Magazine, the International Herb Association Herb of the Year books, me (a Massage Envy health and wellness publication), and the Aromatherapy Registration Council newsletter. Dorene currently serves as Chair of the Aromatherapy Registration Council (ARC).