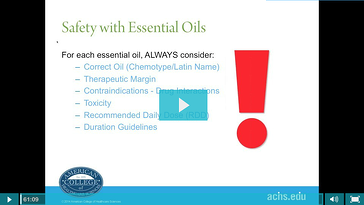 Working with essential oils is a wonderful and natural way to promote personal health and wellness--and they can smell fantastic! However, essential oils are highly concentrated and must always be used with care and caution.
In this essential oil safety webinar, you will learn:
4 tips to avoid adverse reactions
Irritation vs. sensitization

Methods of administration safety (internal and external)

Phototoxicity vs. photosensitivity

Drug interactions and contraindications

Pregnancy and breast feeding

First aid and toxicity
A thorough understanding of essential oil safety is key to effective aromatherapy. We hope you'll join us by filling out the form to the right to register.
This webinar will last 1 hour (includes a 10 minute Q&A).