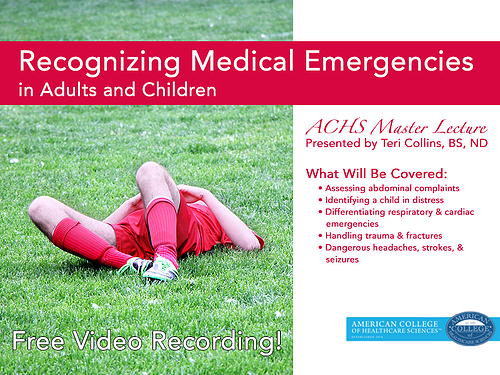 In this free ACHS Master Lecture webinar, you will learn:
Assessing abdominal complaints
Identifying a child in distress
Differentiating respiratory and cardiac emergencies
Handling trauma & fractures
Dangerous headaches, strokes, and seizures
About Teri Collins, BS, ND:
For more than 25 years Dr. Teri Collins has been educating healthcare workers and caring for patients. Dr. Collins—a board certified naturopathic physician and registered nurse—lives on a 100-acre ranch in rural east Texas. In 2003, she received her doctorate from Southwest College of Naturopathic Medicine in Arizona and in 1997 she received her Bachelor of Science in Nursing from Armstrong Atlantic State University in Georgia.